Interview Questions | Job Search
Linkedin Profile & Resume Writer
Getting interviews, but no offers?
Applying to job openings, but no responses?
Questioning your transferable skills?
Wondering where to start on your resume?
Get Focused | Get Noticed | Get Hired
How strong are your LinkedIn profile and resume to get noticed land your dream job?  Are you seeking interview questions to ask in an interview?  Preparing for a job interview and seeking interview preparation tips?  Perhaps you're charting a new career direction and want to practice job interview questions for the interviewer?
A Career Coach with an experienced Recruiter is for those who are seeking to make a career transition and need to revamp their LinkedIn profile or make updates to their resume for a specific job seaerch, and also those who need to enhance their personal brand across social media sites like LinkedIn to get noticed by recruiters and hiring managers.  Remember: we live in a keyword-search world.  You'll never get noticed if your LinkedIn is lacking the right value proposition.
Career Coaching Package Includes:
Active Guidance – Via ad-hoc Email | Text | Phone | Slack

At-Will Scheduling – No limit on how many times we meet day/week/month
Career SWOT Analysis – Chart your course

Personal Brand Enhancement
LinkedIn Search Algorithm Tweaking – Get noticed for more jobs

Professional Network Development – Leverage introductions
Career Path Strategy – Target the right companies

Proactive Job Search and Automation tools
Interview Prep – Interview preparation tips, prep questions & mock interviews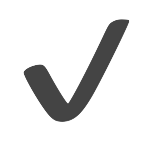 Offer Negotiation – Don't leave money on the table
Post-Hire Coaching – Secure early wins with a 30-60-90 day plan
Access To Slack Channel – Gain insights into the real job market

Accelerate your career with endless possibilities
Enhanced Package: $475/Mo 
(Minimum 3 months)
Identify your marketable skills – A Career SWOT Analysis Tool  will better-define your career path, showcase your marketability and readiness for the job you want versus what's available to you
Get Noticed Fast – By recruiters and hiring managers on LinkedIn
Refine Your LinkedIn Profile – To leverage LinkedIn's Search Algorithm to attract the job you want versus  what's available
Have your resume reviewed and refined – Access to 15+ years of resume guidance with an active Recruiter
Learn effective Job Search Strategies – STOP aimlessly applying on-line getting zero results.  Unlock the hidden job market. Get the inside track to circumvent ATS and LinkedIn online applications
Master Interview Prep Techniques – Guiding you in asking effective probing questions and communicating your value add, which leads to winning more offers
Get an Accountability Partner & Career Guide – Via Email, Text, Phone, Slack when you need it
Get one-on-one advisory sessions – Schedule at-will no limit sessions per day/week/month  

Post-Hire Coaching

  – Strategies for getting up to speed faster & smarter.  Secure quick wins.  Together we create a

 30-60-90 day roadmap

 to success!
Premium Package: $450/Mo 
(4 month minimum)
You'll get the Enhanced Package, plus Active Guidance & Coaching – Complete Personal Branding, to include:
Access to SLACK – Networking via private social media forum: meet, network and interact with other job-seekers just like you. Learn the job market
Ongoing Mock Interview Prep – Dial-in your elevator pitch and craft effective probing questions to ask at the beginning of the interview to turn it into an exchange of information – NOT an interrogation
Active Guidance

 

via ad-hoc Email | Text | Phone | Slack

 when you need it

Schedule At-Will – no limit on how many times we meet day/week/month
Post-Hire Coaching
Strategies for getting up to speed faster & smarter. Secure quick wins.  Together we create a 30-60-90 day roadmap to success.
Align Strategy to Situation
 S.T.A.R. Transition Tool
Learn your New Environment
Identify Quick Successes
Roadmap of success with your new boss
Getting Organizational Alignment
Building a Team
Creating Alliances
Network Development
Getting Leadership Roles
Is a resume professional the right choice for you?
A Resume and LinkedIn Profile Writer is right for you if:
You've recently been laid off from work
You've sent out your existing resume, but have gotten no responses
You've gotten a low volume of job inquires from your Linkedin profile
You're not getting found by recruiters for the kind of job you want
You're challenged with communicating your value-add
A Career Coach is right for you if:
You're getting interviews, but no job offers
You need to master interview prep questions
You're unsure of your transferable skills
You're preparing for a job interview
You're seeking to move up in your job title
You're seeking interview preparation tips
You've been out of the workforce for some time
My clients land jobs at the best companies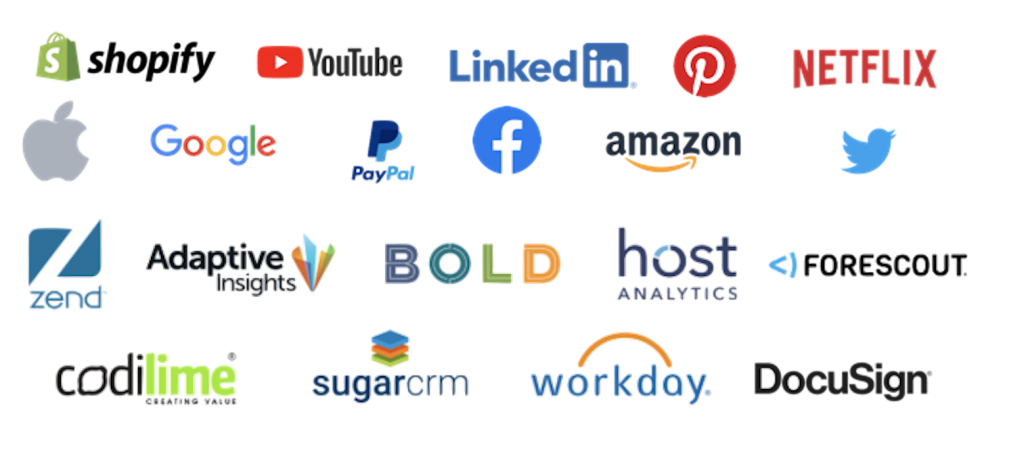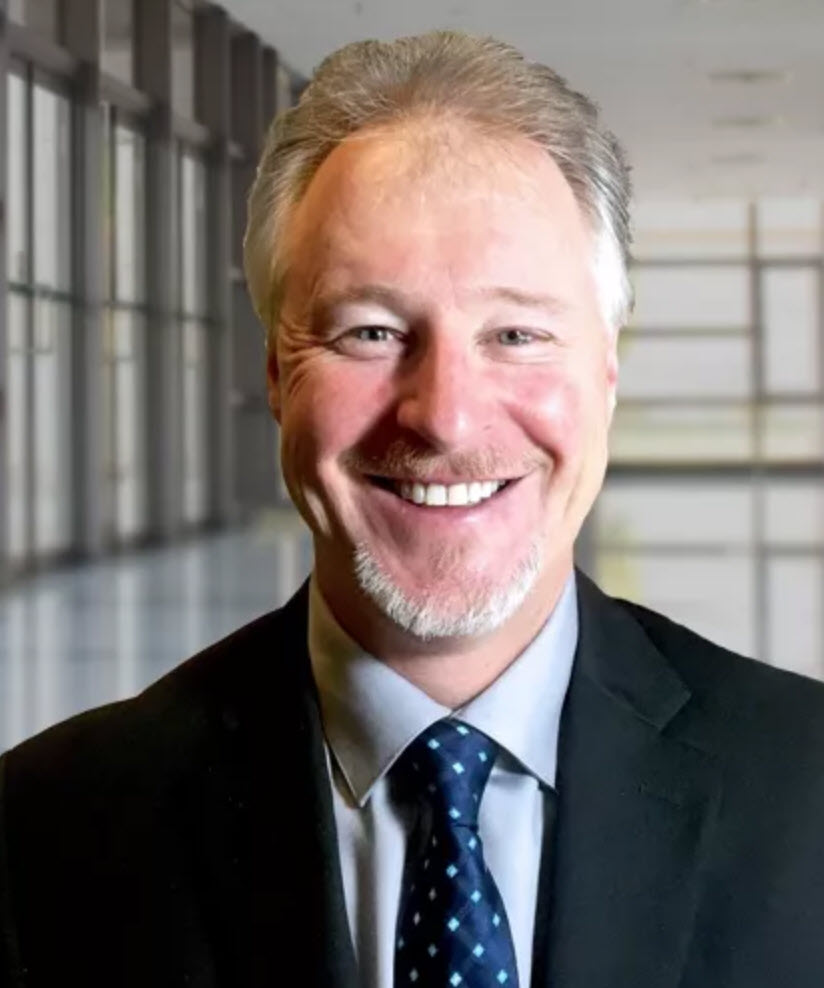 Active Recruiter 15+ Years
Sales Professional 20+ Years
Business Intelligence Consultant 12+ years
B.B.A Computer Information Systems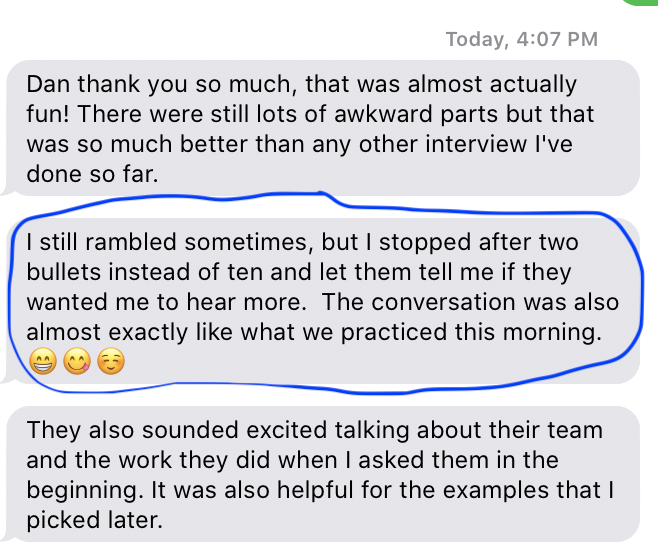 Did you know that most hiring managers make their decision about a candidate within the first few minutes of an interview? Most will judge the quality of the candidate based on the questions asked by the candidate.With Interview Preparation tips we fine-tune your interview skills to help you craft your opening pitch, develop probing questions, handle tricky interview questions and more.
Just got an offer for your dream job? Or a recent promotion? Don't leave money on the table!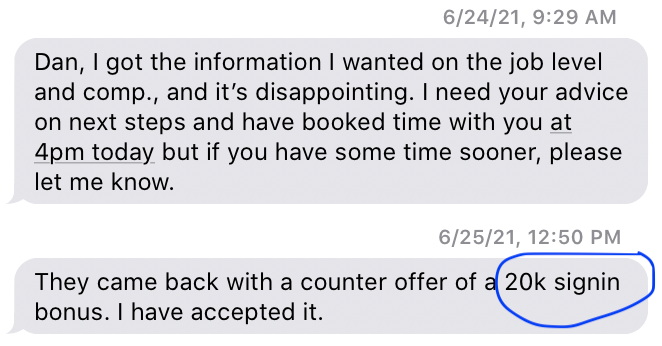 There's always wiggle room. Now is the time to bargain and get your worth. Put my 15+ years of negotiating compensation packages across all levels to work for you.  
Get the salary you desire 
Get that sign-on bonus
Get stock options
Get extra vacation time
My clients report salary increases from $5000 – $50,000 or more.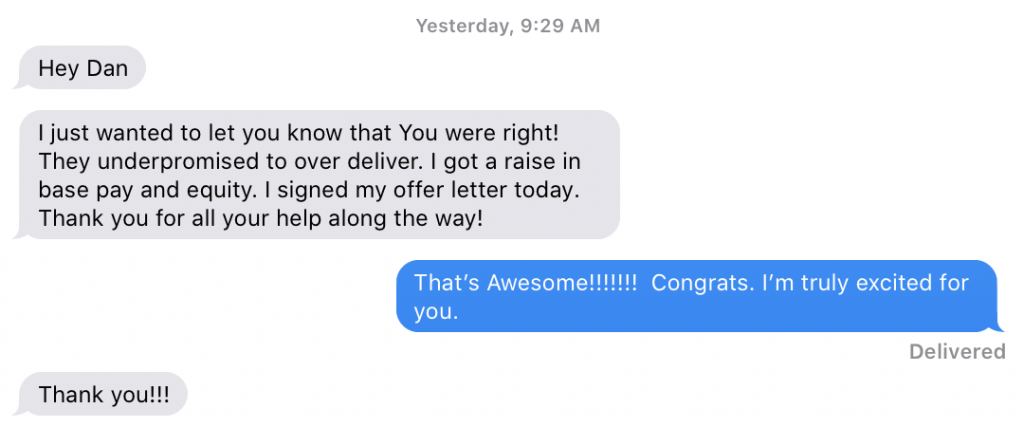 Post-Hire Career Coaching
Just landed your dream job? Got a recent promotion?  Promotion STILL overdue? Now is the time to prove your worth.
Chart a course of success for your first 90 days with ongoing Post-Hire Coaching.    Together we create a 30-60-90 Day plan. 
How will you:
Get quick wins?
Negotiate success with your new boss?  
Build alliances early?
First impressions matter


NIkhil Gupta
It is my pleasure to write this recommendation for Dan. He is a wonderful person and a tremendous coach. He has a unique approach where he pushes you to dig deep inside yourself and understand your unique skill-set and value proposition that you can bring to an organization to have a meaningful impact. His knowledge and expertise are unmatched and in a normal conversation itself, he will share so many tips and tricks that are hard to find in any book or website. I found his guidance extremely helpful in building upon my strengths, identifying areas that need improvement, and how to network effectively. He is very thorough, positive, and always available to help. I am fortunate to work with him and look forward to many more years of partnership ahead.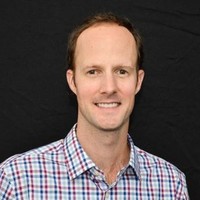 Tim Anderson
In addition to being an outstanding talent acquisition partner, Dan also excels at career coaching and resume building. He provides strategic insights into how to get your resume and online profiles to stand out by highlighting key outcomes in an objective manner. I strongly recommend partnering with fairwindslogiX for either your corporate recruitment needs or your own professional development (or both)!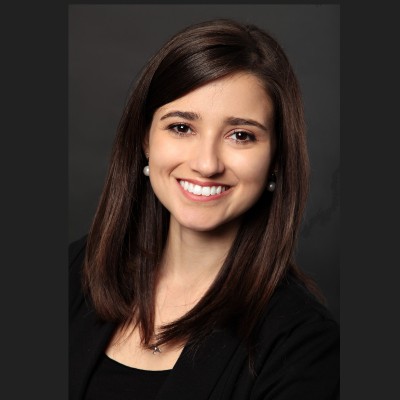 Thiane Carneiro, PhD
It has been a genuine pleasure to work with Dan! He provides support and guidance, and his unique approach has helped me gain a new perspective on the job search and on network development. He is great to talk to, always open, positive, and very friendly! Recently he started organizing the Meet Ups, which I found to be valuable moments to learn from him, from others, and to exchange experiences. I truly appreciate what Dan does and highly recommend working with him!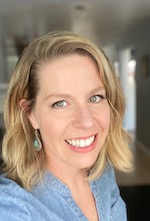 Angela Zullinger
So much of the job search journey was new to me - both from a technological standpoint (LinkedIn function, etc) and in terms of effective communication throughout the process. Dan put me together and continues to support me along each step of the way. The whole thing is a lot less daunting with Dan in my corner. I highly recommend his services!

Gunjan Goel
Dan and I were introduced recently and we developed a level of trust and professional bond very quickly. His views and inputs are invaluable. We did a podcast together on one of my articles and it was great fun. Dan is insightful, engaging, and full of experience. I would highly recommend Dan to anyone who is considering coaching and recruiting. Thanks, Dan
Sr. VP IT / CIO at Cobham

Mel Reyes
Dan was instrumental in sharing over a decade of personal and professional branding advice and expertise to elevate my profile and visibility. His process allows you to discover your values, talents and position yourself for prime and highly qualified exposure to the right companies. I highly recommend Dan and his group for anyone looking for career advancement and refining your branding pitch.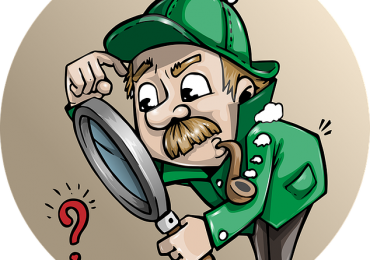 As a Career Coach and Recruiter I'm frequent asked by candidates why they are not getting calls from recruiters or…
Frequently Asked Questions